How do I download files sent to me from MonitorBase?
If you receive an email from MonitorBase like the one depicted here it means you have a new file to download from MonitorBase.
You may receive this notification if for example you have requested a report from MonitorBase for a variety of reasons. MonitorBase transfers files to our customers in this way to ensure that they are transferred and stored securely.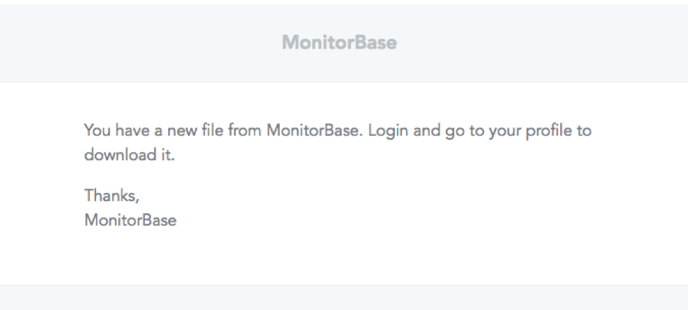 You can download your new file from your MonitorBase profile. To download your MonitorBase files, first go to your 'Files from Monitorbase here:
This will take you to the page shown below:

Once on this page find the file you can click directly on the name of the file to initiate the file download. The date under "Expires" is the date the file will be removed from the page and will no longer be available for download, so if you receive the New MonitorBase File email, make sure to download your file before it expires.

Remember, if you have any questions about how to download or access files on your MonitorBase profile, just give MonitorBase support a call at (888) 795-6575 ext. 2 or email support@monitorbase.com