How to view your automated email marketing activity in your account.
If your company has enabled email marketing offers on your MonitorBase Alerts an email will be sent to any alert that you receive with an email associated with the prospect. The following are instructions on where to find reports on the email activity that has happened within your account. If your company has not enabled email offers and you would like more information please talk to sales.
When you log in to your account on the left hand of the home screen is a site directory. Click the "Mail Campaigns" drop-down menu and then click "Email Campaigns" you'll see the following. (If you do not see the "Email Campaigns" option in your account your company will need to activate email offers, email sales@monitorbase.com for more information on this).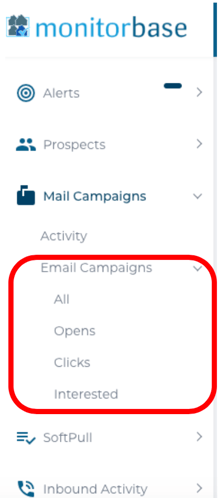 All: This will show you a list of all of your prospects that an email with an offer has been emailed to, along with the date that it was sent. Click any of the prospect names in order to view their profile along with any information you have on the prospect.
Opens: This will show you a list of all the prospects that received an email and opened it. Not all email providers allow for tracking email opens, but this will give you a count of those that do and have opened your email.
Clicks: This is a list of all of your prospects that opened the email that we sent to them for you and clicked the link on the email in order to see their firm offer sent along with the email. (Again, not all email providers allow us to track clicks.)
Interested: Lastly, this will show you all of your prospects that opened their email, clicked the link to view the offer, and clicked a button that says they're interested in receiving more information. You should also receive an email from MonitorBase notifying you that someone is interested in more info. These are the best prospects to reach out to first since we know that they are interested in talking about their loan options and have already seen the offer.
Read Next:
How to preview your personalized email firm offers.