Need help uploading your contacts? Learn how to import prospects to monitor for database marketing alerts from a CSV file.
To upload your prospects, log into your MonitorBase account, click on 'Manage' on the navigation bar on the left, then click 'Upload' on the right. You will be taken to Step 1, shown below.
Step 1: Choose File
Step 2: Select User & Tags
Select the User you would like to upload your prospects to. If you are a Standard User, you will only be able to upload prospects for yourself. If you are trying to upload prospects for someone else, please contact your Branch Admin, as they can upload prospects to other users.
If you would like to bunch all these prospects into a Tag or Tags, either select a Tag from the drop-down or create new tags by typing in the Tag name and hitting return. You can create multiple tags this way.
Select your relationship level for these prospects. You can choose between 'Unknown Level', 'Never Met', 'Past Prospect', or 'Past Client'.
If these prospects vary, you can either separate them into multiple files or simply put 'Unknown Level'.
Click Next.

Step 3: Choose Monitoring
Choose the Monitoring you would like for each of these prospects. You can always change this after you have uploaded the prospects. Monitoring Types may vary for your company. Here is a refresher on what our Monitoring Types do:
If you are uploading a file that might contain duplicates prospects or prospects you are already uploaded, you should look at these next two checkboxes. The first one will reassign a prospect's group and selected monitoring to what you have specified if it is different from what it currently has. The next one will update a prospect's information, owner, and the CRM ID. You can check one or both.
Click Next.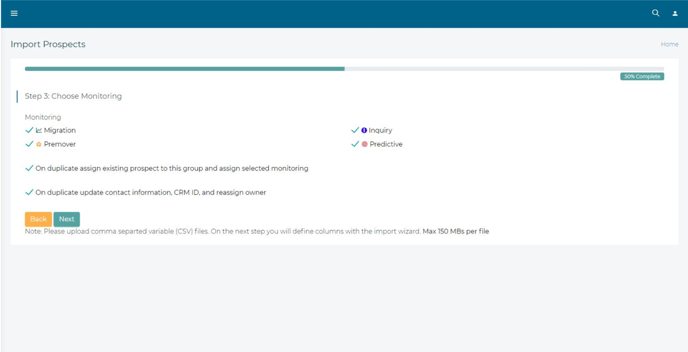 Step 4: Mapping
You can now map the file you uploaded. Make sure you map this correctly so your prospects upload how you want them to. Simply match First Name to First Name, City to City, etc.
We have many different options for mapping, but if we don't have some information listed that you would like to keep with your prospect in our system, you can use up to 5 custom headers.
We have recently added the ability to include interest rate (formatted like X.XXX%), loan amount, loan type, loan purpose, and loan source, but the only fields that are required, are First Name, Last Name, Address, City, State, and Zip Code. Contact information is recommended, but everything else you include is up to you!
Click Save File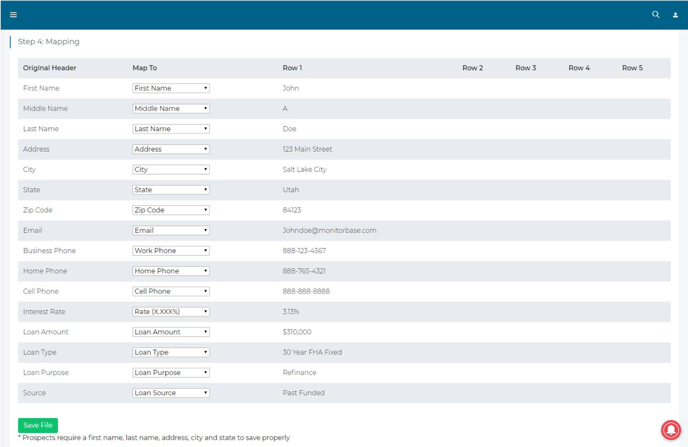 Our system may take a few minutes for your file to finish uploading into your account, but you will receive a results file in your 'Files from MonitorBase' page after it is done. If there were any errors this file will let you know, and it will tell you why. If you have any questions that are not answered here, you are welcome to contact Support@monitorbase.com.